ABOUT ELISE COVLIN
Ms. Covlin lives in northern New Mexico where she is inspired by a rural life style and the richness of cultural diversity surrounding her. She attributes the evolution of her art to extensive travel and has been heavily influenced by North African and European designs and artistic styles.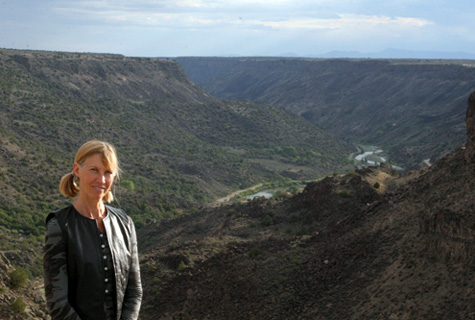 Photo by J. Brett Covlin.
For 15 years Elise Covlin was primarily a furniture artist. Her works have been displayed, sold, and shipped across the USA and in numerous cities throughout the world including Paris, Milan, and New York and she has shown in various countries including France, Italy, Canada, Japan, and Australia. Her work is in numerous private collections throughout the US, in homes that range from secluded cabins of Montana to penthouses of Manhattan. In the early 90's her work was included on a year long tour of Japan to promote cultural exchange and represent a selection of art from the United States. In 1996 she was personally invited by Myer/Grace Bros in Melbourne Australia to participate in a show featuring New Mexican art to help promote trade between Australia and New Mexico. At this point she has produced and sold approximately 10,000 pieces of work, and has had 15 one woman shows including 2 in Sydney Australia in 1997.
For the past several years her focus has moved into fine art further exploring and immersing herself into a variety of mediums including watercolor paintings, paper cuts, and smoked micaceous and white clay vessels.